By now you probably know that a clean workspace is a more safe and more productive workspace. When your employees are healthy and illness-free, they show up on time and work more effectively. Further, when your office or warehouse is clean and organized, it makes your employees feel safer and less distracted.
The hard part can be achieving and maintaining a clean workspace. If you're not using a commercial cleaning service or a professional janitorial service, we're here to explain the benefits of investing in professional cleaning services in the Denver area.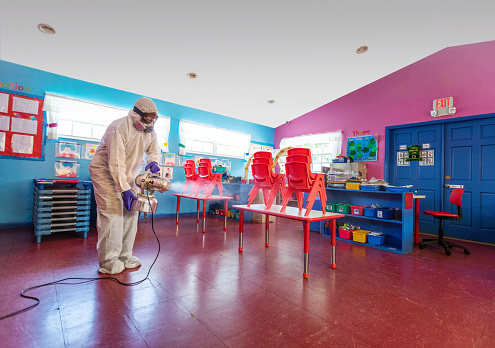 To begin, let us consider some of the reasons why many people choose not to invest in professional janitorial services.
Employees can do the cleaning.

Whatever your business may be, your employees are being paid to perform a job. Some business owners have no problem asking their employees to clean up after themselves. In a kitchen, warehouse, or construction site this might make sense, but it's not always a great idea to assign cleaning duties to your employees. Depending on your industry and the skill level of your employees, asking them to clean can not only cause poor morale but can also take high-dollar-producing activities away from your business. This is why you don't see a lot of successful people cleaning their own homes – it's far more efficient to hire someone else to complete the task so that the client can do what they do best.

Some businesses will choose to hire their own in-house team of janitors to perform cleaning.

This is not a bad solution, but it is also not a perfect one. Depending on the size of your building and the demands of your business, an in-house janitor may not offer enough bandwidth to achieve the level of cleanliness you desire. For example, a single janitor at a

high school

or a

church

can only perform so much work within a day and be at so many places at one time. Not to mention, when you employ your own cleaning staff, you must schedule them, provide them benefits, insure them, train them, hire them and manage them on a daily basis. As a time-strapped business owner, this is not the ideal way you want to spend your time.

Many business owners also think that hiring out the cleaning of their business will be pricey.

While it's certainly an investment, it's likely no more or less expensive than providing full-time employee benefits, insurance, sick days, and vacation. Also, if your worksite is already clean or does not need a lot of maintenance, a janitor may be getting paid to do very little. Last, you will still be purchasing all of the equipment and supplies with an in-house janitor. That can quickly become a large expense for small business owners.
Last, let's consider the benefits of outsourcing your cleaning needs with a third-party janitorial service.
Hiring a professional means that your time is freed up.

As we said above, we manage all of our employees. We hire them, train them, insure them, and provide them with all of the necessary equipment and supplies. We do all this for our janitorial clients and this saves them a lot of time and stress. Our clients don't need to provide benefits, schedule work, or worry about losing an employee.

A third-party janitorial service can work around your schedule, performing work outside of your busiest hours.

This is especially helpful for

school or church settings

, where crews can perform work at night. Your employees will not be disrupted and it also allows our crews to perform the work more quickly and at a higher level.

Unlike an in-house employee, a third-party cleaner is only there when you need cleaning services performed.

We create a custom schedule to fit your needs, and you only pay for the work you need. Instead of paying someone to do relatively little work sometimes, you can count on a third-party service to come in and perform the work quickly and efficiently. You won't leave any money on the table, and you can then focus on what's most important for your business.
At Legacy Construction Cleaning, we provide custom programs for a range of businesses and industries. Whether you need one janitor or a large team at odd hours, we have solutions for your cleaning needs. Our teams are highly trained and dedicated to ensuring your satisfaction.
Please contact us today for all of your commercial cleaning needs!